The philosophical statement that has been stuck in the hearts of people around the world for years…
Well, while it may be hard to physically BE a certain shade of jade…
EATING

GREEN

has never been easier!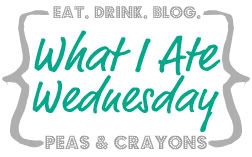 That's right folks, as if you

haven't

seen

enough

of my

GREEN

-filled posts, I've got yet another one for this week's edition of

What I Ate Wednesday

…
But c'mon, you can never have too much green, right? 😉
Be sure to hop on over to Peas & Crayons and show some love to our lovely host Jenn, who definitely knows a thing or two about whipping up some fantastically delicious GREEN eats!
Have you seen her Fiesta Tuna Salad? That is so happening in the VERY near future!
Breakfast
1/2 cup cottage cheese, 1/4 cup peanut flower, 1/4 cup rolled oats, maple extract and cinnamon all mixed up and topped with 1/2 a banana, some raisins, and a few chopped butter toffee peanuts.
Enjoyed alongside a mug of (unpictured) coffee and…
Some GREEN juice!
Snack #1
(Unpictured) carrots and celery dipped in creamy cashew butter (apparently, I'm not the only one who considers this combo tasty…thanks camera for deciding to get hungry!)
Snack #2
1 packet of Better Oats Dark Chocolate instant oatmeal mixed with water.
This was my first time trying these and I have to say for instant oats, they're not too shabby!
Lunch
The best GREEN sandwich ever created: whole wheat bread, 1/2 a mashed avocado, spinach and roasted asparagus
Note: It's not so easy to eat asparagus in sandwich form, but definitely worth the mess I made! 
I'm totally having the same thing for lunch tomorrow!
Snack #3/Post-workout
Vanilla protein powder, water, ice, 1/2 a banana, and "the gums" pictured in front of some GREEN grass! 😉
Let me just note the hilarity that is the smudge of GREEN smoothie from I don't know when on the lid of the xanthan gum…you can tell what I use these babies for, that's for sure! Lol
If you've never tried adding either one of these gems into your smoothies, you are missing out! The xanthan gum thickens it while the guar gum gives it a super creamy consistency…feels like you are drinking a thick and creamy milkshake!
Dinner
Baked BBQ tofu, smashed potatoes mixed with cottage cheese and topped with nutritional yeast and chives, and a big pile of steamed GREEN broccoli
How about another look at that gorgeous tofu?
Mmmm!!
What was the last GREEN food you ate?
Favorite Sesame Street character?
I always had a love for Grover!