Ok, so I hope you guys are ready for this…
Because I just spent over TWO HOURS editing and collaging my pics of all the deliciousness that was my weekend at Blend Retreat and I have to tell you…
I'm STARVING!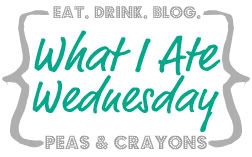 Be sure to stop by

Peas & Crayons

to see all the yummy link ups this week…but I'll just say right now, nobody is going to top this!
 It all started with the Core Power sponsored dinner on Friday night:
The tables were set in the Chautauqua dining hall. And you better believe there was some major drooling over the beautiful cupcakes calling our names lined up on a table in the entryway as we all made our way to our seats.
The flavors: Cinnamon Coffee, Raspberry Lavender, Peanut Butter Pretzel, S'mores, and The "Junkyard" (a variation of carrot cake) all made by a small Colorado bakery.
And the BEST part about them?
100% of the proceeds went to the local homeless shelter!
For dinner we were all served a light salad to get things started and then we were presented with our entrees.
I had the grilled chicken over quinoa with steamed broccoli and seriously…that quinoa/sauce was full buttery, juicy, and all kinds of amazing flavor!
I chose the raspberry lavender, cinnamon coffee, and s'mores for my cupcake selection, but I got lucky enough to taste them all by the end.
Verdict: Give me some more s'mores cupcakes!
But that's just the tip of the mouthwatering iceberg (because we are going to pretend that icebergs are actually giant snow cones right now…don't question me, just go with it!)
Just when we all thought dinner couldn't be topped, we were all FLOORED by Xagave's presentation of breakfast the next morning:
The "bread station" with real fruit jams made with Xagave!
The "yogurt station" stocked with plain Cho and TONS of toppings!
The "granola and muffin station" featuring THE BEST lemon blueberry granola (Nature's Indulgence) I have ever tasted along with Blueberry Cranberry and Carrot Cake muffins…again BOTH made with Xagave agave nectar!
Hooray for lower sugar treats!
And finally, the "oatmeal station" lined with pretty much anything a foodie could think of to top a warm bowl of oats!
Given all the options, to say I had a bit of trouble decided what to get is a bit of an understatement, but in the end I finally had my little hodgepodge breakfast…with coffee of course!
Unsurprisingly, later in the day after we finished up a 2 hour hike up The Royal Arch (more on that later), most of us couldn't WAIT to get to downtown Boulder for some lunch and sightseeing.
My group decided to try Mountain Sun…and I think I can speak for all of us when I say we were ANYTHING but disappointed!
Pub AND Brewery! 😉
I just KNEW I was going to love this place once I found out that not only do they have like 2963 different kinds of beer on tap…but they will let you try any of them…
FOR FREE!
In only a matter of minutes, with the help of my Bearded Bartender Dude, I knew which one was the beer for me…but of course, I still tried about 5 more after I decided and purchase my glass! 😉
In my best Viking grumble: Mmmm!
And I made NO mistake in my decision to order the Cinco de Mayo Burger…
They had me at "grilled zucchini and squash"…
But holy mother of beef burgers, just look at that melted goat cheese!
I'm drooling now just thinking about it!
After we finished up with lunch, most of our group decided to complete the Boulder Beer Experience with a trip to Avery Brewing Co.
I found Bearded Bartender Dude #2 and purchased a few of the dollar "tasters"…aka the cutest little beer glasses I've ever seen!
Then we took an impromptu tour around the facility while snapping pictures and sipping from our cute little glasses (pinkies up, please!)
The best part though was just hanging outside the place for hours afterwards enjoying the company of my blends…oh and we made some doggends (dog friends) too!
Pink collar: Daisy
Green collar: Dobie
How cute is that?! A Doberman named Dobie! 🙂
Oh yeah, and that would be an amazing basket of sweet potato tots with guaca-hummus (Heather is a mastermind when it comes to substitutions and combos at restaurants!)
Well, I'm sure by this time you're thinking that we definitely had enough booze to end the evening, but au contraire…
What is Cinco de Mayo without some Mexican food and tequila shots?!
Laura (my foodie soul mate) and I shared the Vegetarian Fajitas: grilled portabello, peppers, onions, and squash with rice and black beans, corn tortillas, and mandatory condiments.
And well, the first tequila shots of the night were FREE…now who could turn that down?
Ahh, peer pressure! 😉
Believe it or not, I did not have as much to drink as it seems…not even the slightest hungover the next day…which was good since there was one last meal to enjoy before the close of our trip!
Our official sponsors, Chobani provided a breakfast full of grains, fruits, and protein to help fuel us after a kick a$$ boot camp (yep, more on that later too!)
What-cho want for breakfast? 😉
Again, I hodgepodged it up…
Oh the stress of deciding between cream cheese and peanut butter!!!
And played with the Keurig for the last time…I swear if it was cost effective (aka, better suited for coffee addicts like myself who require 2 LARGE cups of coffee daily), I would TOTALLY get one of these!
Whew! Did you make it? Are you still with me?
But more importantly…is your keyboard about to short circuit?? Quick, grab a napkin!!
Did you celebrate Cinco de Mayo? 
What is the best thing you ate over the weekend?