Wow, so you guys REALLY wanna win some peanut butter! Keep those entries coming in for your chance to win not one, but THREE jars of PB Crave whose flavors are going to knock your socks OFF!
And for the rest of you who have already entered and are here for to drool over some good eats…don't let me keep you waiting!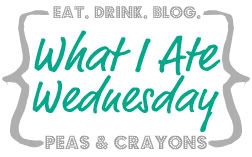 Yep, that's right! It's time for another round of

What I Ate Wednesday

and this week's theme:
Is the Fridge Half Full or Half Empty?
Well, I guess that just depends on your level of optimism, doesn't it?
I'll let you be the judge! 😉
BB and I got home kinda late after my flight from Blend so the hopes of refilling my fridge for the workweek disappeared when my head hit the pillow and I was comatose 5 minutes later…I kept telling myself I would get to the store, but with it being my 10 hour shift week, it was impossible to fabricate any more hours into my days…
And so I give you some of my odd (yet totally delicious) creations for the week:
If you've been reading my blog for any length of time, the BBQ PB&J combo shouldn't alarm you (for any new readers, check out this post and "don't knock it till you try it!"), but I also got a little creative with some macaroni noodles I found hiding in the back of the pantry…
Mexican Macaroni Mystery: whole wheat macaroni, 1/2 cup low fat cottage cheese, avocado, red bell pepper, and salt-free taco seasoning
Italian Macaroni Mystery: whole wheat macaroni, 1/2 cup low fat cottage cheese, avocado, red bell pepper, Italian seasoning and LOTS of garrrrrrlic!
It's always fun to spice things up with…well, SPICE! 😉
As for the sweet potato concoctions, I was out of everything I wanted to make one of Jenn's savory sweet potatoes, but I think I mastered the art of the sweet with the avocado and this granola combo…mmm, mmm, MMM!
The pancake "things" for lack of a better description are definitely not blog-worthy at this time (notice how I had to cover up the burn marks with peanut butter and jam), but not to worry, I WILL have a recipe soon!
By some miracle, I made it through the entire week on my meager amount of vegetables and NO fresh fruits. I have to admit I was a bit proud of myself, but I couldn't let it go on any longer…
Not too much…just the necessities!
So why did I call it quits on my refrigerator adventures? Well, it was time to do some REAL cooking…for Mama Broccoli!
Her wish for Mother's Day?
"A fruity salad like the one that's on your Facebook page…um, salmon…and…ohhh, asparagus!"
Her wish was my command!
Grilled salmon topped with a yogurt dill sauce (plain Greek yogurt, fresh dill, garlic, and lemon juice), roasted asparagus, and spinach salad topped with goat cheese, strawberries, blueberries, and almonds!
I even broke out the Xagave from my Blend swag bag and whipped up a quick
balsamic dressing:
Equal parts balsamic vinegar and olive oil to half that in agave syrup
♥  Food is love! ♥
Since Sunday, my meals have gotten more normal looking:
Geez, my mouth is watering looking at my OWN pictures! Lol
So which to you prefer: creative meals from a fridge half EMPTY or more traditional meals from a fridge half FULL?
Although I much rather prefer to have a good assortment of fresh fruit and veggies at all times, it was fun coming up with new combinations…you never know what will go together until you try it…like BBQ and PB&J! 😉
Did you have a special meal for Mother's Day? If so, what did you have?