Blargggggg!
I can't believe it is already 10pm! Where in the heck has my day gone?! I swear from the moment I got out of bed this morning, it has been go, go, go!
Luckily, because I just can't NOT play along with Jenn and all my other food loving gals, I managed to snap a pic of my "fast food" eats today!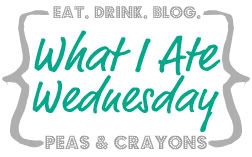 Be sure to head on over to Peas & Crayons and check out all the delicious link ups! And howabout a big shout out to my girl, Jenn, for making this shindig happen each and every week?! 🙂
Breakfast was a bit of a throw-together…I mixed some Love Grown granola with the last of my Erin Baker's Power Crunch PB granola, tossed in some banana slices (if you want to call them that…banana's on their last leg don't really "slice"), and then dumped a container of Fage Greek yogurt on top!
And naturally, there is ALWAYS time for coffee! I picked up this gem over the weekend and it is most definitely a keeper…the perfect blend of coffee flavor and chai spiciness!
Altogether, this is what breakfast looked like:
Yeah, just pretend you're looking at a gorgeous layered parfait with a freshly polished silver spoon situated next to a fine china cup filled with coffee! 😉
Of course, the reason I had to eat my breakfast while cruising down the highway driving with my knee was due to the fact that LUNCH was my top priority:
Monday night I had the BEST sandwich of avocado, spinach, and tomato with pickles for dinner…only, it would have been easier to eat a banana split on the back of a donkey…while climbing the side of a mountain…in the pouring rain.
I'm not ashamed to admit that all my lady-like ways went out the window as I held my face inches above my plate and stuffed every last bit in my mouth with pickle-y avocado hands.
So today, I opted for a leafless sandwich and chose to have my spinach in the form of a salad instead…with red pepper, sprouts, and balsamic vinegar.
Snackage for the day included a pineapple SoyJoy bar (not bad), blackberries and strawberries, and the last of my Mrs. Mays Almond Rice Stix…
Please join me in a moment of silence while we mourn the future absence of such an amazing snack…
After I got off work, I headed to the gym for an upper body workout and then figured I'd hit up the store to "grab a few things" on my way home…
You know how they say you should never go to the store hungry?
Well, after coming home with a can of sardines, Wasa crackers, and a pack of roasted soy beans, all I can say is…
Man, was dinner delicious! 😉
Now I'm thinking a spoonful of peanut butter and a couple of swigs out of the almond milk carton a glass of almond milk would end the day jussssssst right!
What is your go-to snack when you're short on time?
Have you ever tried sardines?
This was my first time…kinda tasted like tuna only saltier.