Hey loves!
I hope you all enjoyed the holiday weekend! Mine was full of shopping, traveling, and of course TONS of good food!
Which is a good thing since it's time to party!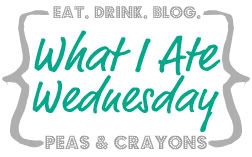 Be sure to click

here

to show some love to our host,

Jenn

and check out the delicious link ups for this week's

What I Ate Wednesday

!
The weekend started with the return of Pizza Friday!
And as always, the $4 pepperoni pizza was stripped and VEGGIFIED!
I went south of the border with the flavors this time, using one of my favorite Mrs. Dash seasonings…totally reminded me of Taco Bell's Mexican Pizza!
Throughout the weekend, I was sure to get my daily servings of fruits in each day…
Almond butter and PEACHES on cinnamon raisin bread, , cereal and fresh strawberries, and yogurt with cranberry acai granola (newest Whole Food's bulk bin obsession) and BLACKBERRIES!
 And for the record, the biggest cookie on that sampler plate is in fact LEMON sugar* and I'm sure there's at least some trace of actual RASPBERRIES in that chocolate wine I spiked my coffee with! 😉
*More on that plate-o-goodness to come!
Like a lot of people, BB and I were out and about most of the weekend so our meals were eaten on the go, but they definitely did not disappoint…
Which Wich sub shop just came to Clarksville about a month ago and I have made it my life's goal to try everything on the menu!
The other day, I went with a toasted chicken pesto with parmesan cheese, caramelized onions, tomatoes, pepperoncinis, red bell peppers, oregano, and garlic…SO good! And yes, I DID make them call out "Madonna" in the middle of a busy lunch hour! 😉
BB is making his way down the list of milkshakes they offer. This time he ordered the Oreo shake…which I decided needed to be "check for poison"…a couple of times! 😉
As much as I could seriously pop a tent outside this place and live off salads, sandwiches, and milkshakes for the rest of my life, BB was able to pry me away and distract me with BBQ…
We checked out a new-to-us place along the highway who claim to have the  "best BBQ ever"
It was cute, with decent prices, and our camera evading sandwiches WERE pretty tasty…but as far as being the BEST?
Eh, I wouldn't go polishing that golden boar just yet.
On Sunday night, we went to visit some of BB's family in Kentucky where there was definitely NO shortage of good food…
and good times…
Shooting lessons of the firearm AND pool variety…from now on, I will only answer to the name of Annie Oakley.
And yes that WOULD be my boyfriend about to tase himself but that's besides the point…check out these cuties:
BB's uncle's new pup and 3 WEEK old kittens! OMG!
I've never really understood the phrase "You're so cute I could just EAT you up," but just for the record, no puppies or kittens were harmed in the making of this WIAW post! 😉
And if ALL those eats (minus the puppies and kittens) wasn't enough for a long weekend, somehow I managed to find room for a handful of snackage just about every hour on the hour!
Honey mustard pretzel pieces, crunchy green beans that taste like straight up buttery deliciousness, trail mix with butter toffee nuts and dried pineapple (omg, yum!), cake batter kettle corn, AND gummy worms.
I'm such a sucker for sour gummies and with as many convenience store stops as we made this weekend, it was BOUND to happen!
What deliciousness did YOU get into this weekend?
What is your convenience store/gas station weakness?