What do you think?
I keep things pretty upbeat…pretty positive here on the blog, right?
Well then, how about a little timeout…a chance for me to rant a little bit?
I think I'm entitled to a good rant every once in a while…
Especially when it's 6 days until Lent is over and I find out it's
National PB&J Day!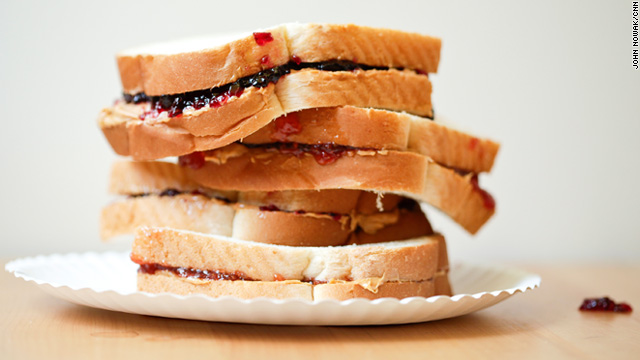 FML!
Oh and just for the record, my Googling "PB&J sandwich" is the pretty much the equivalent to Superman looking up pictures of Kryptonite!
And speaking of delicious food, tell me something…
How do you feel about chain restaurants being required to post the calorie count for their meals?
Because on Saturday, BB and I went shopping at the newly reopened Opry Mills Mall and by the time we got there, we were both famished. While not all sit-down type restaurants were open, Dave & Busters was. I figured, "Well I've been there before and the food's pretty good…sure!"
I opened the menu and this was the first thing that caught my eye…
Mmm, chicken quesadillas!
Grilled chicken, poblano and jalapeño peppers with cilantro, and a blend of melted Mexican & cheddar cheeses grilled in a cheddar jalapeño flour tortilla. Served with sour cream and salsa.
Sound good?
783 CALORIES
How about now?
Ok, ok, it's got a ton of cheese and grease…I understand.
So then I was like, "Ohhhh, a veggie burger…that sounds yummy!"
922 CALORIES
Fine, just fine! I'll get a frickin' salad!
Wait…I don't want a frickin' salad…I want MEAT!
(sorry veggie guys, it happens sometimes)
I guess I could have just ordered whatever I wanted, ate until I was satisfied and then took the rest home, but unfortunately, when dining out (especially with others where I'm easily distracted) I have absolutely NO CONCEPT of my stomach and always end up eating it all…I blame my parents and the "clean your plate" mentality (sorry mom).
So what did I end up ordering?
Three skewers of Louisiana spice-rubbed shrimp char-grilled and basted with mango citrus glaze served with spicy rice and steamed fresh vegetables.
All in all, I thought the meal was pretty tasty (and filling…I even gave one whole skewer to BB)…and at under 600 calories, I didn't feel like the Goodyear blimp after eating it.
But I still wanted those damn quesadillas.
Wanna know how the story ends?
5 hours later…dinner…at a little place called Chaney Fork, Where there weren't any calorie postings.
Crispy quesadilla filled with tender strips of buffalo steak, sauteed peppers, onions, and cheddar cheese served with chipotle sour cream
Let's just say, sometimes…ignorance is bliss! 😉
Ok, I feel a bit better now that I got that out of my system…plus, I just had this as my bedtime snack:
Anyone care for a NUT and jelly sandwich?
Muahahaha!
Did you celebrate National PB&J Day?
What dish have you [ignorantly] enjoyed lately?
Fess up, I know you've got something! 😉